Baby Moses the Elephant
Baby Moses the Elephant
September 29, 2019
Pastor Bob
I love stories like this… mostly because of the very cute pictures. It is amazing how baby animals can adapt and become attached to whoever loves and cares for them. The baby elephant was named Moses because he was found among the grasses of a riverbed in the Vwazi Wildlife Reserve in northern Malawi.
The reserve rangers looked for days to find the elephant herd that the one month old baby belonged to. Unsuccessful in their search a woman named Jenny Webb and other wildlife reserve staff began to care for Moses and he soon became part of the family.
The article states:
Rangers tried to find his family herd for two days without success, said the 48-year-old Webb, adding that the calf's mother was likely killed by elephant poachers. The illegal killing of elephants is rife in Africa, with conservation groups saying that tens of thousands of elephants are being killed each year for their ivory tusks.
Malawi's national parks did not have the funds to raise the little elephant, so Webb, the founder of the Jumbo Foundation an orphanage for large animals, took on the job of caring for the little pachyderm.
Moses weighs 100 kilograms (220 pounds) and each day he drinks 24 liters (6.3 gallons) of an infant formula that is boosted with coconut milk and 14 other ingredients.
"Elephants are extremely sensitive," said Webb. "It amazed me. We think of elephants as big, strong creatures but they are very emotional. Moses picks up on my feelings. If I am sad, he is nurturing. If I am angry, he quickly gets upset."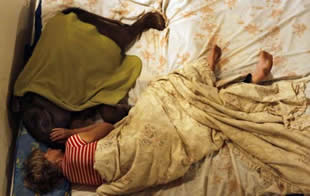 I wonder what it is like watching an elephant grow from day to day. Each of the animals that we have and care for each has their own personalities… especially our horses. It would appear that elephants are no different.